Z Pack It Up!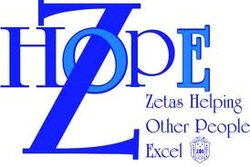 Zeta Phi Beta Sorority, Inc. is a non-profit, international organization consisting of professional and college women dedicated to the ideals of Scholarship, Service, Sisterly Love, and Finer Womanhood.
The local Omicron Chi Zeta graduate chapter consists of sorority members residing in Harford County. The Sorority's international community service initiative, Z-HOPE, stands for Zetas Helping Other People Excel through Mind, Body, and Spirit. The Harford County Z-HOPE Foundation (the charitable arm of the Omicron Chi Zeta Chapter) was established to allow the chapter to partner with community organizations and individuals to further extend the reach of Z-HOPE in Harford County, Maryland.
How Can You Help?
You can help promote the development of basic learning skills for youth by providing essential tools for learning and development of the mind. The "Z-Pack It Up" Z-HOPE program provides book-bags filled with school supplies to children in need. With a donation of just $15.00 per book-bag, you can help a child entering kindergarten – 3rd grade come to school with the tools needed to begin a life-long career of learning. As a thank-you for your donation, you will be acknowledged on the sponsorship tag that accompanies the book-bag.
Complete out a sponsor form
here
.
​
---
---
Zeta Phi Beta Sorority, Inc., Omicron Chi Zeta Chapter | PO Box 194 | Abingdon, MD 21009
(443) 307-0160 |
info@zphib1920oxz.org
The Zeta sorority shield, "Z-HOPE" and Z-HOPE logo, and "Zetas Helping Other People Excel" are registered trademarks or trademarks of the International Headquarters of Zeta Phi Beta Sorority, Inc. and are used by Omicron Chi Zeta Chapter with permission or under established charter. All other logos or trademarks are trademarks of their respective owners. All rights maintain reserved. Click here to view the
Terms of Use
policy.
© 2017 Copyright Omicron Chi Zeta Chapter