Our History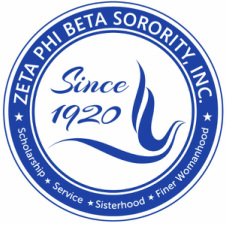 Zeta Phi Beta Sorority, Inc
. was founded January 16, 1920 on the campus of Howard University in Washington, D.C. The five illustrious founders of Zeta Phi Beta Sorority, Inc., Arizona Clever Stemons, Myrtle Tyler Faithful, Viola Tyler Goings, Fannie Pettie Watts, and Pearl A. Neal dared to depart from the traditional coalitions for Black women and sought to establish a new organization.
Their vision was to encourage the highest standards of scholarship through scientific, literary, cultural and educational programs; promote volunteerism on college campuses and in the community; foster sisterhood; and exemplify finer womanhood. These ideals are reflected in the sorority's national programs for which its members and auxiliary groups provide significant volunteer service, financial capital, and professional talent to educate the public, assist youth, enrich community outreach programs, fund scholarships, support organized charities and promote legislation for civic and social change.
Headquartered in Washington, D.C., Zeta Phi Beta Sorority, Inc. has over 800 chapters in the continental United States, the Bahamas, Germany Japan, Korea and the U.S. Virgin Islands. The Sorority has a diverse membership of college-educated women representing various disciplines, industries and professions. Zeta Phi Beta Sorority, Inc. has made an impact on humanity for more than 92 years!
---
---
Chapter History
The "Outstanding" Omicron Chi Zeta (OXZ) graduate chapter of Zeta Phi Beta Sorority, Inc. was chartered to serve Harford County, Maryland on Friday, April 15, 1994. The chartering ceremony took place at the Maryland State Leadership Conference in Bethesda, Maryland, and a chartering celebration reception was later held on June 3, 1994 at the Edgewood Community Club, Edgewood Arsenal, Edgewood, Maryland. Charter members were L. Lynn Boyd,

Roberta L. Clay

,

Victoria Davis

,

Sheila Dews

,

Sabrina (Edwards) White

,

Janice E. M. Grant

, Dolores H. Janifer, and Carolyn Nutter-Harris.

In 1995, the chapter organized the

Zeta Amicae

of Harford County, and the

Dolores H. Janifer Memorial Scholarship Fund

has provided financial assistance to Harford County high school graduates pursuing higher education. Since its chartering, the chapter has given un-totaled hours of voluntary service to educate the public, assist youth, support organized charities, and promote legislation for social and civic change.
Most recently, the Harford County Z-HOPE Foundation, (the charitable arm of the Omicron Chi Zeta chapter) was started to extend the reach of the sorority's international community service initiatives throughout Harford County.
Z-HOPE
stands for "Zetas Helping Other People Excel", and it is a holistic approach to serving women, men, children, seniors, and international women by targeting specific dimensions of a person's well-being: the Mind, the Body, and the Spirit.
The chapter membership is comprised of professional women from many walks of life. Chapter members hold Bachelor's, Master's, Doctoral and/or Professional Degrees in fields from Education, Social and Life Sciences, Engineering, Business and Management. This expertise allows the chapter to provide a myriad of services to the Harford County area.
Thus, the chapter continues to hold high the torch that was kindled by five young co-eds at
Howard University
in Washington, DC on January 16, 1920. May the torch holding the light of Zeta continue to burn eternally…
---
---
Zeta Phi Beta Sorority, Inc., Omicron Chi Zeta Chapter | PO Box 194 | Abingdon, MD 21009
(443) 307-0160 |
info@zphib1920oxz.org
The Zeta sorority shield, "Z-HOPE" and Z-HOPE logo, and "Zetas Helping Other People Excel" are registered trademarks or trademarks of the International Headquarters of Zeta Phi Beta Sorority, Inc. and are used by Omicron Chi Zeta Chapter with permission or under established charter. All other logos or trademarks are trademarks of their respective owners. All rights maintain reserved. Click here to view the
Terms of Use
policy.
© 2017 Copyright Omicron Chi Zeta Chapter
​
_